DIRECTED BY: LEWIS MILESTONE
WRITTEN BY: MAXWELL ANDERSON, GEORGE ABBOT, DEL ANDREWS, C. GARDNER SULLIVAN
BASED ON THE NOVEL BY: ENRICH MARIA REMARQUE
OVERALL SCORE: 8.00/10
Paul (Lew Ayres) and his classmates join the German war effort during the beginning of World War I. Filled with thoughts of heroism and valor, the men soon find war is not all that they had built it up to be as death, isolation, and hunger take its toll.
If you were to ask me how many books I've read in my life I could quite honestly probably count it on both hands. If you asked me how many I truly enjoyed I could do that on one. All Quiet on the Western Front is one of those novels I absolutely love to death. So as you can imagine going into this film I did my absolute best to remove all novel comparison from my head, in the effort of giving it as good a shot as possible. What I found was a griping and powerful, yet glaringly flawed, war epic, filled with depth in moment, recognition of meaning, but lacking the time to truly delve in.
Lew Ayres was a mixed bag for me, I often found him looking the part, but his performance often felt all too staged, and really lacked the subtlety in emotion I expect from such a character. Meanwhile the classmates go up and down in terms of acting as well. Ben Alexander as Franz was a particular standout for me, with the task of playing such an emotionally torn character, while Louis Wolheim as Katczinsky is everything I could have ever wanted out of that character, and more on several occassions. Though the glue that holds this film together, through all the writers, and attempts is Milestone's strict direction.
Never allowing the story to hop around, maintaining strength in narrative transitions, and pushing onward into the harsh character moments, regardless of whether or not his actors can keep up, Milestone brings to life Remarque's amazing novel in full form. Milestone breaths a sort of life into the scenes, maintaining a sense of realism, while never sacrificing harsh story elements in favor of a more cheerful film. It's that sort of dedication to the meaning of the story that makes novel transitions to film possible, and in that respect I greatly admire Milestone's efforts.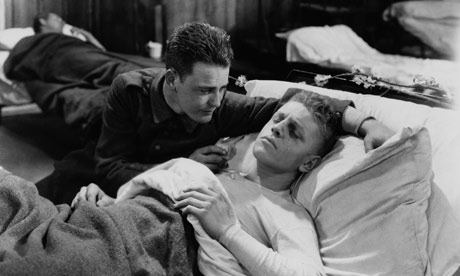 A powerful film adaptation of Remarque's novel restricted only by the flailing quality in acting, but saved constantly by Milestone's direction.