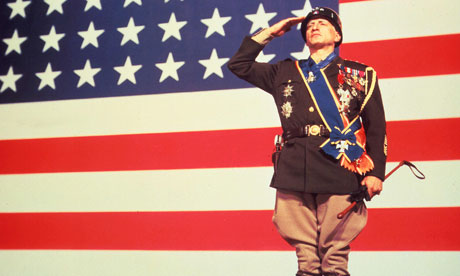 PATTON
DIRECTED BY: FRANKLIN J. SCHAFFNER
WRITTEN BY: FRANCIS FORD COPPOLA & EDMUND H. NORTH
OVERALL SCORE: 10/10
TOP 100 FILMS: #71
Egotistical military genius, General George S. Patton (George C. Scott) leads his tank unit through Africa, into Italy, and through Europe during World War 2. Along the way he must face difficult enemies, daunting tasks, and the trouble he creates due to his ego and intense reactions.
From the opening "Ten-Hut!" to the closing, melancholic look at glory, Patton is a force to be reckoned with. Great lines, memorable characters, solid action, amazing storytelling, and great directing, intertwined with social commentary, character study, and war depiction, we get the chance to follow Patton's long World War 2 journey. His character flaws attract us, his infallible strength inspires us, and his intelligence moves us.
I've loved the movie Patton ever since I first saw it, some 6 years ago. With one of the great performances of all time from Scott, supported by a knockout performance by Karl Malden as Patton's opposing match. The story is wonderfully put together by Coppola, North, and Schaffner, who manage to create strong sense of realism, in this larger than life character. At the same time Schaffner manages to combine both pro and anti war moments, for a man whose career was quite literally a military one.
At the same time, Patton is oddly subtle, and in the end we find his emotions run far deeper than he would allow anyone, even the audience, to truly know. As such we're allowed to find him both flawed, and yet oddly the perfect man for what he did, and in this way an admirable one. We find the good in him, accept the punishment for his bad, and judge his every move, both good and bad, in the hope that there is some redemption. We're allowed to observe him, something so many films miss when it comes to larger than life character studies... we can never be them, only try to understand the severe complexity of them. For all these reasons, Patton is without a doubt one of my all time favorite films.
One of my all time favorite War and character films, Patton is one for the ages, a true knockout of a film.