MILLION DOLLAR BABY
DIRECTED BY: CLINT EASTWOOD
WRITTEN BY: PAUL HAGGIS
OVERALL SCORE: 10/10
TOP 100 FILMS: #94
Up and coming amateur boxer Maggie (Hilary Swank) seeks out the aid of grizzled trainer, and ex cut man, Frankie Dunn (Clint Eastwood) and his right hand man Eddie Dupris (Morgan Freeman). As the three move up the boxing ranks they are forced to deal with their deep emotional issues, and in each other they begin to find a little bit of piece.
There's few films that when the credits come I have to lean back in my chair and just process everything that I saw. Filled with dark, painful, and unspecified secrets, gritty moments of moral question, and amazing acting, Million Dollar Baby is an all around experience. With Eastwood's signature dark cinematography by Eastwood's sole cinematographer since Blood Work, Tom Stern. The setting is just something you have to watch in order to witness.
In adapting the stories for screen, Paul Haggis takes careful time with the characters, with no dialogue that feels out of place, nor any character that feels over written. The wonderful array of multi-layered characters provides the audience with people to cheer for, against, and empathize with. This gives the audiences something to hold onto, as the movie progresses so do the dark elements. Though in an odd way Haggis and Eastwood find an odd sense of hope underlying these situations, something that sticks right out at you, and makes you wonder about what it means to have lived a full life.
Hilary Swank, Eastwood, and Freeman deliver some of the most powerful performances of their year. Memorable, not for how cool or tough they are, but rather for how real, and easy to empathize with they are. Eastwood is simply amazing as a man, disconnected from his family, Freeman is breathtaking as the aging boxer wishing he had one more fight in him, and Swank is a picture of perfection as the southern girl with big fighting dreams and a harsh family past. You simply have to reach out for these characters, want them to succeed, and yet in the back of your mind you begin to question can they?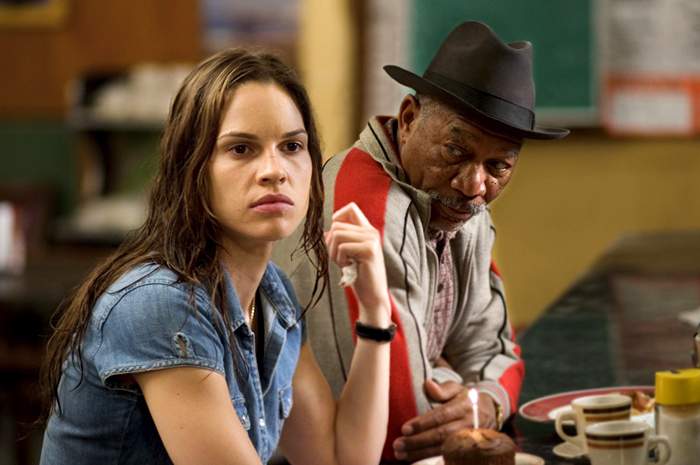 I can't promise you you'll like Million Dollar Baby, but if you take yourself back from it, you'll see for the story it tells, and what it conveys, it's simply perfect in execution, form, and every way imaginable.