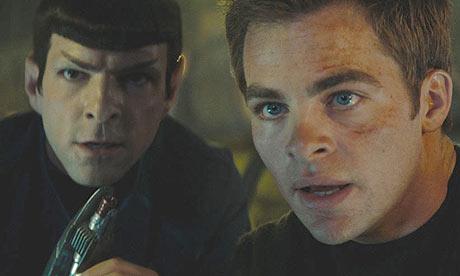 What 3 weeks in a row of awesomeness? I know, you'd think you were reading someone else's blog! It's like I'm getting good at this... ok, not really. Got lots of releases this week, some good, some awful, some I opted to avoid at all costs.
New Releases:
Star Trek:
I have to stay I feel bad I never got around to reviewing this film. I saw it during that dark in between phase, where I was frustrated and left RT, but wasn't sure if I was going to start a blog. I do highly recommend it, it would probably grab a 7.75 out of me. I do need to do this review though.
My Sister's Keeper:
I wonder if purchasing this film comes with a box of kleenex? From everyone I know whose seen it, those who loved the book found it a disgrace, those who didn't found it to be a huge tearjerker. Let's be honest though, movies like this exist for one reason: to force you to cry regardless of whether or not the characters earn that emotional connection.
Bruno:
Ever have a job where you had to do one task the entire time, you know it'll take x hours so you get working, and figure it'll be over soon. You work hard for what feels like hours, so you decide to look up only to see that 30 minutes have gone by... that's what I felt like watching Bruno. I couldn't even muster up the anger/annoyance to do a review, I just cared so little and wanted it to end so quickly.
Limits of Control:
Jim Jarmusch + art film = well, not me renting anytime soon. Let's be honest Jarmusch appeals to a select group, so please stop acting like everyone has to like his movies because he's an "artist." We can all respect his work, just some of us like to respect it from a distance.
Other releases: How to Be, Humpday, Thirst, The Open Road, Bringing Balanchine Back, Wild Child

Blu-Ray Goodies
Fight Club:
The #1 Rule of Fight Club: All fans must buy the blu-ray release. I can't think of any film in the last few years that has caused as much commotion, fanboy love, and awesomeness without Hollywood trying to replicate it. Granted this movie didn't do that well at the box office, only barely making back it's expenses, but it's become one hell of a cult fan.
Leon: The Professional -
Ok, so this movie is a little creepy with the pre-teen girl cuddling up to the 40 something hitman, but Jean Reno is great in this movie, such a good film from start to finish (one of Besson's finest).
Other Goodies: Galaxy Quest, Sex Lies and Videotapes, Clerks, and Chasing Amy
I have to admit I wasn't much up to the humor for this week's releases, some quality some not, it's all good! I hope to have some reviews up before too long. Till next time!